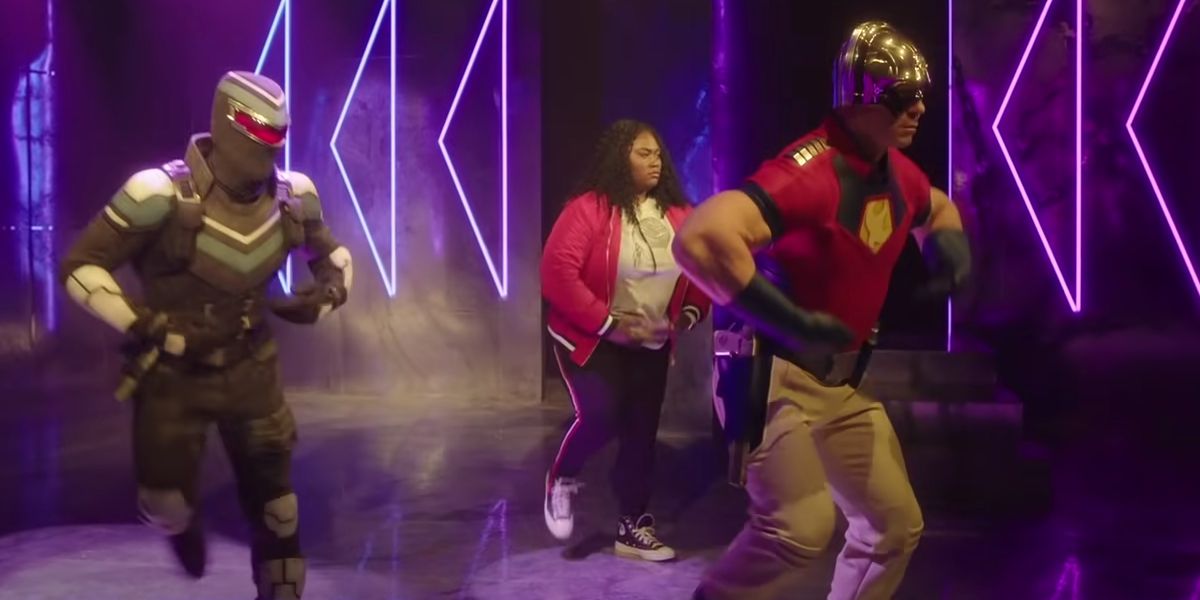 Watch Peacemaker replacement Alan Tudyk rehearse the show's opening dance
Behind-the-scenes footage from HBO Max's Peacemaker reveals that Alan Tudyk rehearsed the DC show's opening dance number in the absence of star John Cena.
A behind-the-scenes look at HBO Max Peacemaker reveals that when series lead John Cena was unavailable, Alan Tudyk stood up to rehearse the dance number from the opening title sequence of the DC Extended Universe show for him .
"[W]We rehearsed on set for the opening dance number one day that [John Cena] was also working, so his temporary replacement was [Alan Tudyk]", Peacemaker star Steve Agee wrote on Twitter. "[T]do you think i'm kidding? I am not joking… [Tudyk's wife Charissa Barton] pulled strings." Tudyk himself tweeted quote Agee's post with a GIF of himself dancing to the Peacemaker opening game, writing, "[H]I'm not kidding." Agee shared additional photos. Additionally, series creator james gunn says he has "a hundred" Tudyk dance videos.
RELATED: The Peacemaker Clip Makes [SPOILER] DCEU Canon, Namedrops Harley Quinn
The first HBO Max original series set in the DCEU, Peacemaker revolves around the events of Gunn's 2021 film The Suicide Squad. Written and co-directed by Gunn, the series debuted its first three episodes on HBO Max on January 13. Peacemaker Season 1 will run for a total of eight episodes, with new episodes every week until February 17. Set to "Do Ya Wanna Taste It?" from Wig Wam, the show's opening title sequence sees Cena's anti-hero perform an elaborate dance number with his co-stars, many of whom have a humorous stone face throughout.
Perhaps best known for his role in Firefly, Tudyk has worked with Gunn in the past, having starred in an episode of the web series Spike.com James Gunn's PG Porn in 2009. Tudyk is also no stranger to the DC Universe, having played Mr. Nobody in the first season of the live-action Doom Patrol series and played the voice role of Superman in the 2014 animated film Justice League: War.
RELATED: DC Lets James Gunn Become 'Hog Wild' in Peacemaker's HBO Max Series
Tudyk has also lent his voice to a number of DC characters on television. On the animated series young justice, Tudyk voiced Green Arrow, Psimon, and Captain Cold. (He also voiced Green Arrow in the DC video games Injustice: Gods Among Us and Injustice 2.) Additionally, Tudyk voices several characters on the harley quinn animated series (currently awaiting its third season on HBO Max), including The Joker, Clayface, Calendar Man, Doctor Trap, and Condiment King.
The first three episodes of Peacemaker are available to stream now on HBO Max. New episodes come out on Thursdays.
KEEP READING: Peacemaker: Robert Patrick and Steve Agee Tease Father/Son Relationship 'For the Ages'
Peacemaker Clip Done [SPOILER] DCEU Canon, Namedrops Harley Quinn
About the Author