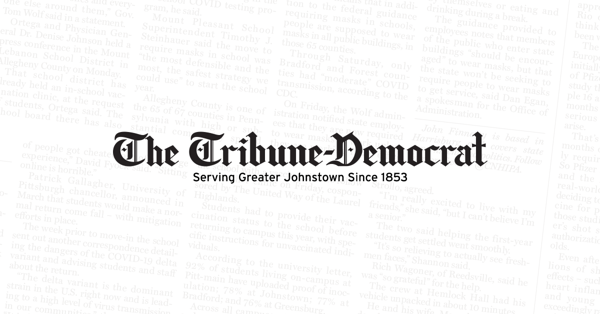 Johnstown woman accused of killing baby will stand trial | New
A Johnstown woman will stand trial for criminal homicide in connection with the April 1 death of her 14-month-old daughter, authorities said.
Veronica Lainey Lewis, 38, was retained for trial following a preliminary hearing on Wednesday before District Judge Kevin Price of Johnstown.
Lewis pleaded not guilty through public defenders John Lovette III and Joseph Sutton.
Assistant District Attorneys Forrest Fordham III and Matthew Gribler called six witnesses to testify during the two-and-a-half-hour hearing — two city police officers, two residents, Cambria County Coroner Jeffrey Lees and pediatric pathologist Dr Manjunath Heggere.
Jorden Spencer, a resident of Grove Avenue, testified that Lewis and the child were at his home when Lewis became upset when the child kept crying.
Spencer testified that he was upstairs at the time.
"I heard a thud and the baby stopped crying," he said.
He said Lewis told him she dropped the bottle, but Spencer didn't believe it was a bottle.
"It was too strong a blow," he said.
Lewis left home, leaving the child in Spencer's care, he said. The child was in a playpen in her bedroom, where Spencer said he was watching television, and he checked on the child three or four times, believing her to be asleep.
The child's aunt, Alicia Powell, testified that Lewis told her to pick up the child, and when she arrived the television music was so loud, Powell said, that she knocked on the wear for five or 10 minutes.
Spencer opened the door while talking on the cellphone, Powell said, and went upstairs, where she found the child in the playpen.
"His lips were as white as paper," she said. "It looked like my niece had been beaten up."
Powell testified that she called 911, and she and Spencer performed CPR on the baby until firefighters and an ambulance arrived.
They took the child to the emergency room at Conemaugh Memorial Medical Center, where she later died.
Spencer and Powell arrived at the hospital and texted Lewis, but she never made it to the hospital, they testified.
Lees testified that the autopsy performed at Forensic DX in Windber showed the child died of exsanguination caused by ruptured mesentric blood vessels due to blunt trauma.
The death was ruled a homicide, he said.
Heggere, who performed the autopsy, said the results also showed some "cocaine exposure".
Heggere concluded by saying that if the child had received immediate medical attention, she "could have survived".
Fordham said the Commonwealth had proven its case against Lewis, who is charged with criminal homicide, aggravated assault and endangering the welfare of children.
Lovette said her client was innocent.
"We believe it could have been caused by the person caring for the child," he said later.
Lewis is being held without bail at the Cambria County Jail in Ebensburg.
Patrick Buchnowski is a reporter for The Tribune-Democrat. Follow him on Twitter @PatBuchnowskiTD.