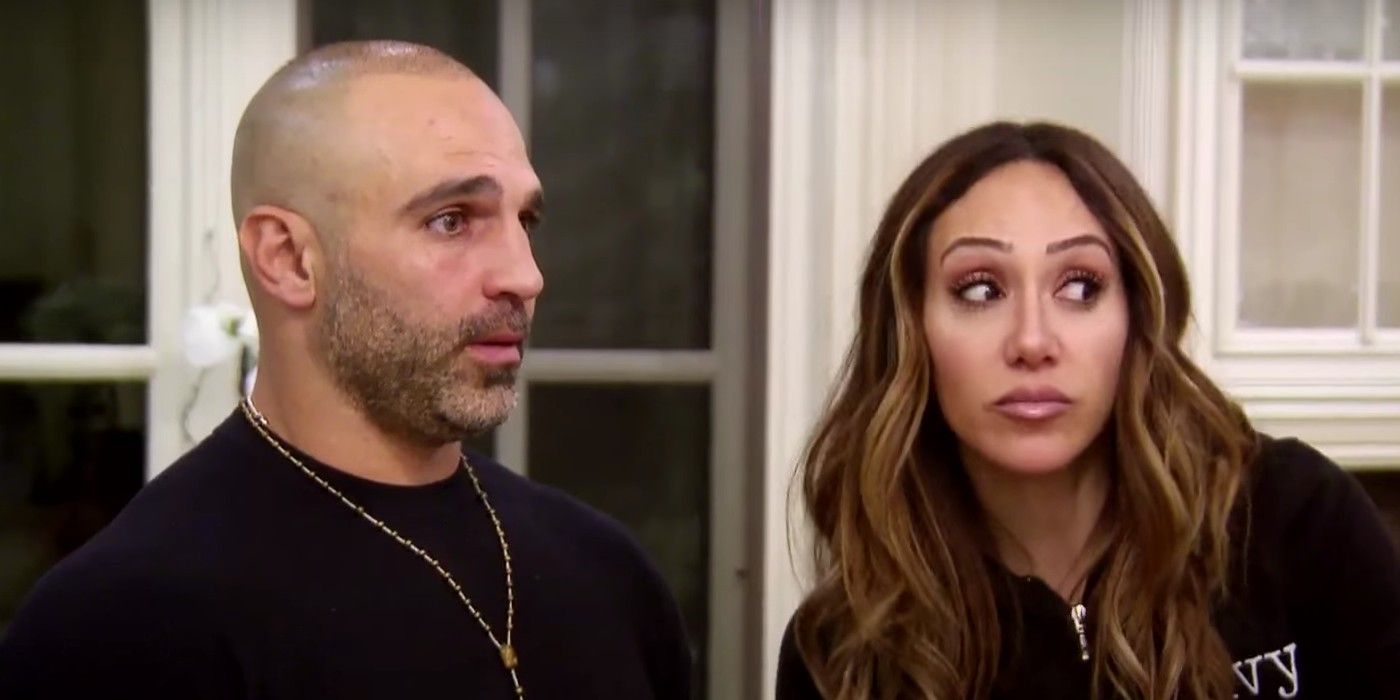 Melissa Gorga Takes Husband Off Stage During Stand-Up Comedy Routine
Real Housewives of New Jersey star Joe Gorga wasn't at his best on a show, but his wife, Melissa Gorga, saved him from further embarrassment.
The Real Housewives of New Jersey Star Melissa Gorga took her husband and comedian Joe Gorga off the stage as he performed a comedy after mixing Sudafed and alcohol. Melissa and Joe have been married since August 2004 and have three children: Antonia, Gino and Joey. Since they got married, the couple have formed a close bond with each other and with their children. Joe and Melissa joined the cast of RHONJ in 2011. The couple's bond helped them overcome the challenges of maintaining a relationship while being a part of a reality TV show. So, they survived the curse of reality TV and remain strong despite the obstacles.
Melissa and Joe support each other in their respective endeavors. Towards the end of October, Joe launched his first comedy tour. His tour kicked off on October 27 in New York City and has had many RHONJ cast members present. Joe's sister, Teresa Guidice, and her fiance Luis "Louie" Ruelas also attended the show, which took place a week after their engagement. The then newly engaged couple fueled up on the PDA by donning matching outfits and kissing each other during the show. Since the start of his tour, Joe has traveled across the country, entertained his audiences, and achieved tremendous success. However, her recent performance at Long Island's Governor's Comedy Club turned out to be different.
Related: RHONJ: Melissa Gorga Puts Her Home Up For Sale After Hurricane
Joe's comedy show at the Governor's Comedy Club fell apart when he started telling a joke about a friend, but the joke didn't make much sense. Despite the comedian's bad timing, the audience encouraged him to continue cheering him. Joe repeatedly asked the audience if he was ready as he cheered them on. However, soon after, he threw a rant. At that point, his wife, Melissa, joined him on stage. A video of TMZ captured the embarrassing moment, showing that Melissa joined Joe and said, "I don't know what they gave you backstage, baby, but I have a feeling …" before preventing him from taking another sip of his drink. Then she told the audience, "I swear, he usually cracks us up, he has a routine that makes us all laugh to tears every night – I promise." Melissa then brought a reluctant Joe off the stage as the audience clapped and laughed.
Joe's manager Mike Martocci revealed the comedian was sick that day and took Sudafed with some scotches. Unfortunately, the mix struck him when he took the stage for his performance. Mike added that they returned to the club the next night and Joe joked about his experience. Also, Joe spoke to Sixth page via his turn manager and said, "It wasn't my typical show. As I share my many life lessons in my standing routine, I can now add this one – don't mix alcohol with Sudafed." Joe said he didn't feel good and didn't want to let his fans down. He revealed, "I was taking Sudafed and had a few scotches before going on stage, as I usually do. Unfortunately, my body did not respond well to the mixture." Joe also said he doesn't take cold medicine often and Melissa didn't see him like that, which is why she rushed onto stage to bring him down.
Sometimes artists have "days off" in their careers. While this is almost inevitable, how they manage and recover from it matters. Obviously, Joe was not at his best during his performance at the Governor's Comedy Club. However, one is to be commended for the way his wife rushed to get him off the stage and keep him from embarrassing himself further. Melissa instantly knew that her husband was not as usual and acted immediately. Although it was an embarrassing moment for the couple, it showed their love and understanding. It's also good to know that Joe returned to the club the next night and laughed at himself. The Real Housewives of New Jersey star learned a valuable lesson from all of this. It's unclear if he will have another day off during a performance, but one thing is certain he will never mix alcohol with Sudafed.
Next: RHONJ: What We Know About Melissa Gorga's New Podcast 'On Display'
Sources: TMZ, page 6
90 Day Fiancé: Ariela and Biniyam reveal major life update during Tell-All
About the Author