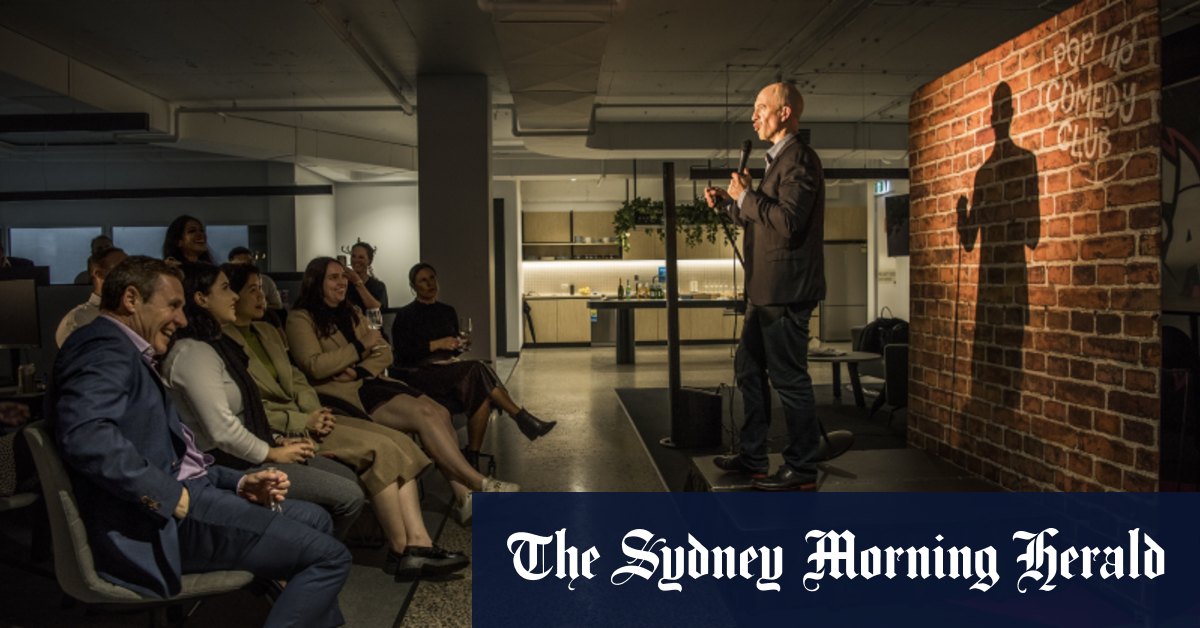 Did you hear the one about Gary? Getting up makes coming back to the office more fun
Having professional comedy jokes about weekend drinks was a step up from the free coffees other companies used to lure workers into the office, said a Rate Money employee in North Sydney.
That was even before veteran comedian Gary Eck started his 4 p.m. gig in the space between offices and an office kitchen laden with cabanossi, fries, cider and beers.
"Ladies and gentlemen, welcome to Rate Money Pop Up Comedy Club," said Eck, who had to do his own lighting, staging and introductions.
"Please go crazy, go crazy, for your title," he said, before thanking the audience for taking the afternoon off. "That would have been a disappointment."
To encourage employees to return to the office after working from home became the norm during coronavirus restrictions, Rosemary Guyatt of the Australian HR Institute (AHRI) said companies were allowing dogs, offering morning teas and were building new office layouts with yoga and meditation rooms and 5-star end-of-trip facilities.
Having fun at work was increasingly valued, and opportunities for employees to connect and build relationships were important.
Guyatt, AHRI's managing director of people and culture, had concerns about using a comedian, especially someone who was not a professional.
"Comedy, like alcohol, doesn't necessarily promote inclusion, so I'd say it's best consumed outside of work," she said.
Rate Money chief executive Ryan Gair said that when a colleague suggested arranging a comedian for the office, he agreed. "Everyone needs a good laugh. Work is stressful enough for most people – and more so than in the past.