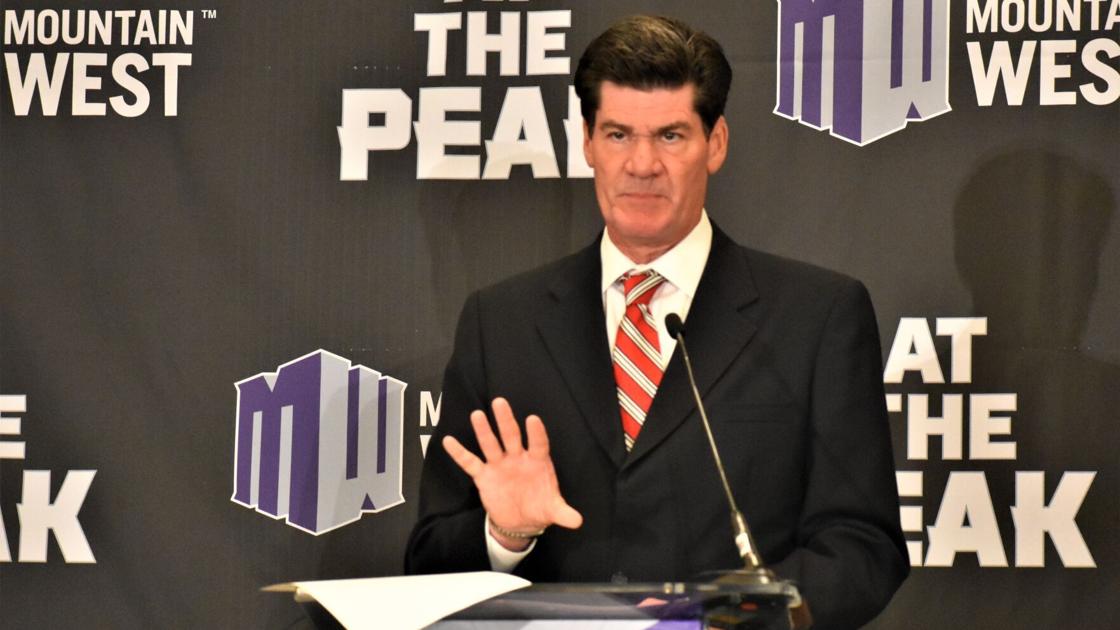 'We will hold on,' said Mountain West commissioner as realignment continues nationwide | Sports blanket
Don't expect a last minute move from Mountain West as this latest wave of conference realignment is likely coming to an end.
"We're going to stand," Commissioner Craig Thompson said Wednesday afternoon as part of the conference basketball media days.
Mountain West pushed back an attempt by the American Athletic Conference to win four of the top programs – Air Force, Boise State, Colorado State and San Diego State – several weeks ago. Rather, the AAC should expand by adding Charlotte, FAU, North Texas, Rice, UAB and UTSA.
Thompson said the Mountain West board met on Tuesday evening and chose not to act in response.
"We had a very thorough discussion of all kinds of options," said Thompson. "Our position at the moment is that we are very comfortable with 12 football institutions and we will stay true to it. Currently we are the # 1 ranked conference in the Group of Five and we have been several times in the past and hope to be several times in the future, so we love our makeup and are very interested in creating and styling. growth of these 12 brands.
While he specifically mentioned "football playing" institutions, Thompson also added that the league has no plans to expand into basketball and other sports at this time. Gonzaga and the state of Wichita had been proposed as potential candidates for membership.
When asked if the decision not to develop into basketball was an indication that media partners believed it wouldn't add value to the TV deal, Thompson urged the reporter to "read between lines ".
The AAC's latest push to grow after losing Cincinnati, Houston and UCF to the Big 12 will place it in several coveted football markets, including three additional schools in Texas to join SMU. However, discussing the conference move with The Gazette on Saturday ahead of the Air Force's victory at Boise State, Thompson noted that presence in a particular location does not mean a program is requisitioning that market.
Thompson also noted that the decision to stay at 12 was not rooted in the conference's past. After all, Mountain West was formed after teams split from the Western Athletic Conference after reaching 16 teams.
This move, he said, was simply about the conference's feeling that it had the best chance of improving its value and stature with its current members than it could through expansion.